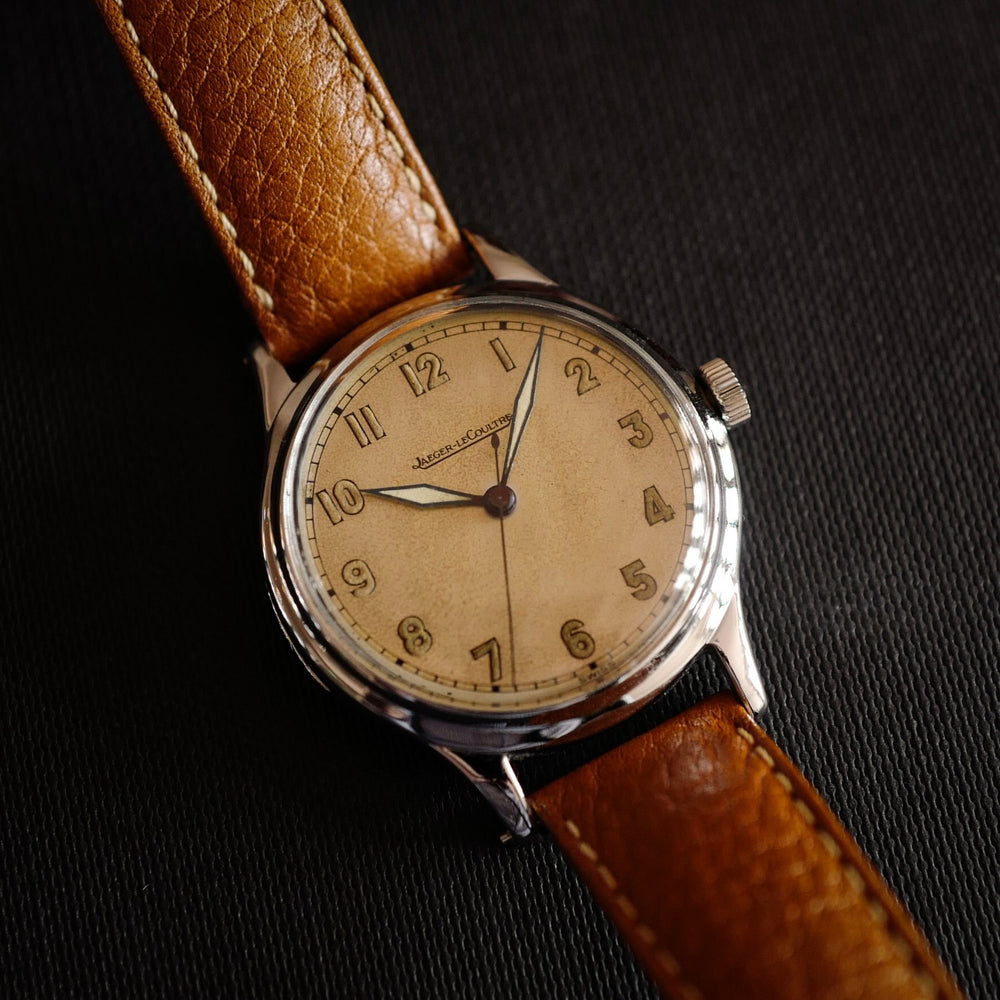 Jaeger-LeCoultre Tropical Dial
Details
Catalogue Essay
Maker Bio
Manufacturer: Jaeger-LeCoultre
Model Name: N/A
Year: Circa 1941
Reference No: N/A
Material: Stainless steel
Calibre: Manual, cal. P478
Bracelet/Strap: Leather
Clasp/Buckle:  Unsigned buckle
Dimensions: 33mm
Signed: Case, dial and movement signed
Accessories: N/A


This timepiece is a military style wristwatch produced in the 1940s during the World War II. It is driven by the highly reliable workhorse movement Cal. P478 and housed within a 33m chromium-plated case. The most attractive part of this timepiece is the Arabic numerals and the tropical dial which has an evenly formed golden patina. The Glaive-style luminescent hour and minute hands combined with the sweeping second hand complete the look of this timepiece.


Not all companies in the watchmaking field have been able to stand the test of time quite like Jaeger LeCoultre, also known as the "watchmaker's watchmaker." Founded in 1833 by Antoine LeCoultre and originally named LeCoutre, the firm provided watchmaking's top brands, such as Patek Philippe, Vacheron Constantin and Audemars Piguet, the high-grade, unfinished mechanical movements with which they completed their watches.

In the early 1900s, Cartier's watch supplier Edmond Jaeger sought out LeCoultre's help in creating the world's thinnest watches. The collaboration resulted in the creation of Cartier's earliest Tank and Santos watches, all housed with LeCoultre movements. The duo decided to merge in 1937, and the firm officially became the Jaeger-LeCoultre brand by which collectors know and adore it today. Some of the firm's most significant and important timepieces include the Reverso, the Memovox, the Atmos clock and, among modern watches, their Master Complications.